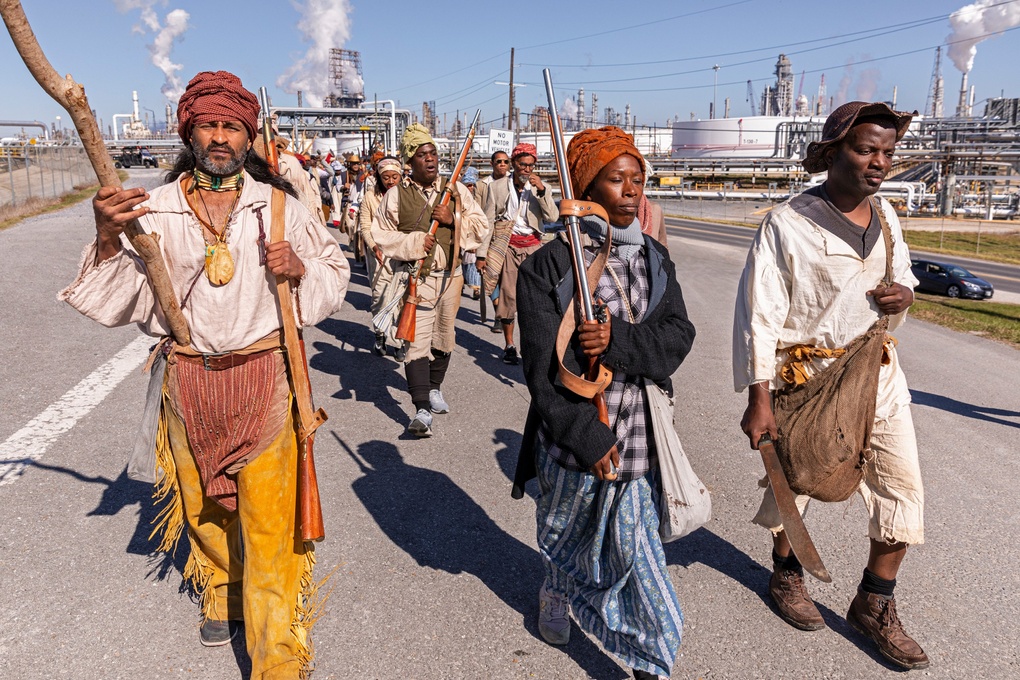 Dread Scott, Slave Rebellion Reenactment Performance Still 1
A leading voice in the denunciation of American racism and capitalism, Dread Scott's conceptual works have encouraged audiences nationwide to rethink the so-called "truth" of American ideals. In 2019 Scott debuted Slave Rebellion Reenactment, a community-engaged performance work that recreated the 1811 slave rebellion in St. Charles and St. John the Baptist Parishes in Louisiana. Its leader Charles Deslondes organized over 400 enslaved people to carry out what was one of the largest slave rebellions in American history.


In this image, performers armed with machetes and rifles march with a determined resolve just as the historical figures they portray. The area in which they are photographed is riddled with petrochemical plants that detrimentally pollute the predominately Black communities that surround them. Non-coincidentally in 1811, sugar plantations occupied much of this same area. Thus, the reenactors' movement along the 26-mile stretch symbolizes the constant battle Black people fight every day for freedom and equality.
Statement
I make revolutionary art to propel history forward. I look towards an era without exploitation or oppression. I don't accept the economic foundation, social relations, and governing ideas of America. My work contributes to social change by encouraging an audience to explore important social questions based upon this perspective. This viewpoint has empowered me to make artworks that show leaders of slave revolts as heroes, challenge American patriotism as a unifying value, set fire to the US Constitution, position the police as successors to lynch mob terror, and burn money to highlight the absurdity of a system that treats necessities as commodities. My projects often look at how history not only sets the stage for the present, but also resides in the present in new form. I work in a range of media: performance, installation, video, photography, and printmaking and the audience is often an active element of the art.
Artwork Info
Date
2020
Dimensions
39.25 x 59 inches
Medium
Pigment print
Artist Info
Born
Chicago, IL
Works
Brooklyn, NY
Out of Many: Dread Scott in conversation with Dr. Kelli Morgan, November 16, 2021
Biography
Dread Scott is an interdisciplinary artist whose art encourages viewers to re-examine cohering ideals of American society. In 1989, the US Senate outlawed his artwork and President Bush declared it "disgraceful" because of its transgressive use of the American flag. Dread became part of a Supreme Court case when he and others burned flags on the steps of the Capitol. He has presented a TED talk on this. His art has been exhibited at MoMA/PS1, Walker Art Center, Cristin Tierney Gallery, and street corners across the country. He is a 2021 John Simon Guggenheim Fellow and has also received fellowships form Open Society Foundations and United States Artists as well as a Creative Capital grant. In 2019, he presented Slave Rebellion Reenactment, a public performance, which was featured in Vanity Fair, The New York Times, and on Christiane Amanpour on CNN. His art is included in the collection of the Whitney Museum of American Art.